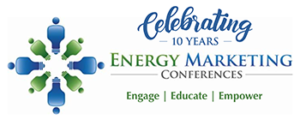 The Energy Marketing Conference is the largest and longest-running energy conference, trade show, and gathering of competitive energy executives in North America. Every Spring, EMC takes place in Houston, and every Fall, EMC takes place in New York City.  The two-day packed agenda features more than 50 thought leaders who speak on over a dozen sessions and panels, creating an incredible learning opportunity. Hundreds of energy industry professionals at every energy conference network at meals have drinks at one of the two receptions and share stories at our trade show and exhibitor hall (which is packed with more than 40 exhibitor booths). Simply put, EMC provides the best learning and Networking opportunities in the two biggest energy cities in the country, always at an affordable price.
Engage, Educate, and Empower with some of the greatest minds in the

competitive energy space.